STYLPRO Get Up & Glow Up Bi-Folding Mirror
Regular price
£34.99 GBP
Sale price
£19.99 GBP
Unit price
per
Sale
Sold out
Glowing from every angle
Whether you are on the go or at home, the STYLPRO GET UP AND GLOW UP™ is the perfect solution for all your makeup scenarios. Now with 3 mirror faces and 4 perspectives, you can secure a 360 glow wherever you are, making it a must-have travel essential.
Watch the STYLPRO Get Up & Glow Up
™

Bi-Folding Mirror in action

 

EAN: 5060288331840
How it works

With dimmable LED light panels adjustable at the touch of a button, this portable mirror ensures you always have the right lighting for immaculate application. Focus on the details with our 4 mirror perspectives and bi-folding panels. Open up the book for well-lit looks, as you unfold 2 bi-folding panels; one with a 2x magnifying quarter and a 5x magnifying quarter and a normal focus panel to catch your look from the side-profile.
Benefits and features

⭐Travel-friendly & lightweight design
⭐Dimmable light settings
⭐Fold-flat stand for both vertical and horizontal use
⭐4 different perspectives for magnification of certain areas
⭐Bi-folding mirror panels for all round coverage
⭐Built-in phone ledge for hands-free selfies
⭐5x and 2x magnifying mirror faces
⭐Protective sleeve for travel
⭐Micro-USB charger means you can recharge your mirror wherever you are.
Includes

✔️1x STYLPRO Get Up & Glow LED Travel Mirror
✔️1x Protective Sleeve
✔️1x Micro-USB Charging Cable
How to use

🖤Ensure the mirror is fully charged by inserting Micro-USB cable into the port at the back of the mirror and attach to a USB friendly power source. It may take up to 3 hours for the mirror to be fully charged.
🖤Slide the switch to the 'ON' position. The indicator light will turn red when charging.
🖤Fold open the bi-folding panels. Press the button on the face of the mirror, to activate lighting.
🖤Tap and hold the button to adjust dimmable light settings.
🖤For a free-standing mirror, pull the stand-out at the back and place horizontally or vertically on a flat surface.
🖤To take a hands free selfie/video, place your phone on the phone ledge at the bottom of the centre mirror, either vertically or horizontally.
🖤Keep stored in the protective sleeve for safe keeping.

Additional Information

Snap a perfectly lit selfie, with the embedded phone ledge which allows for your phone to rest either vertically or horizontally for hands-free use.

The GET UP AND GLOW UP™ also comes with a micro-USB charging port, protective sleeve, and fold-flat stand, meaning there is literally nowhere you can't take it. So, go on then, off you glow!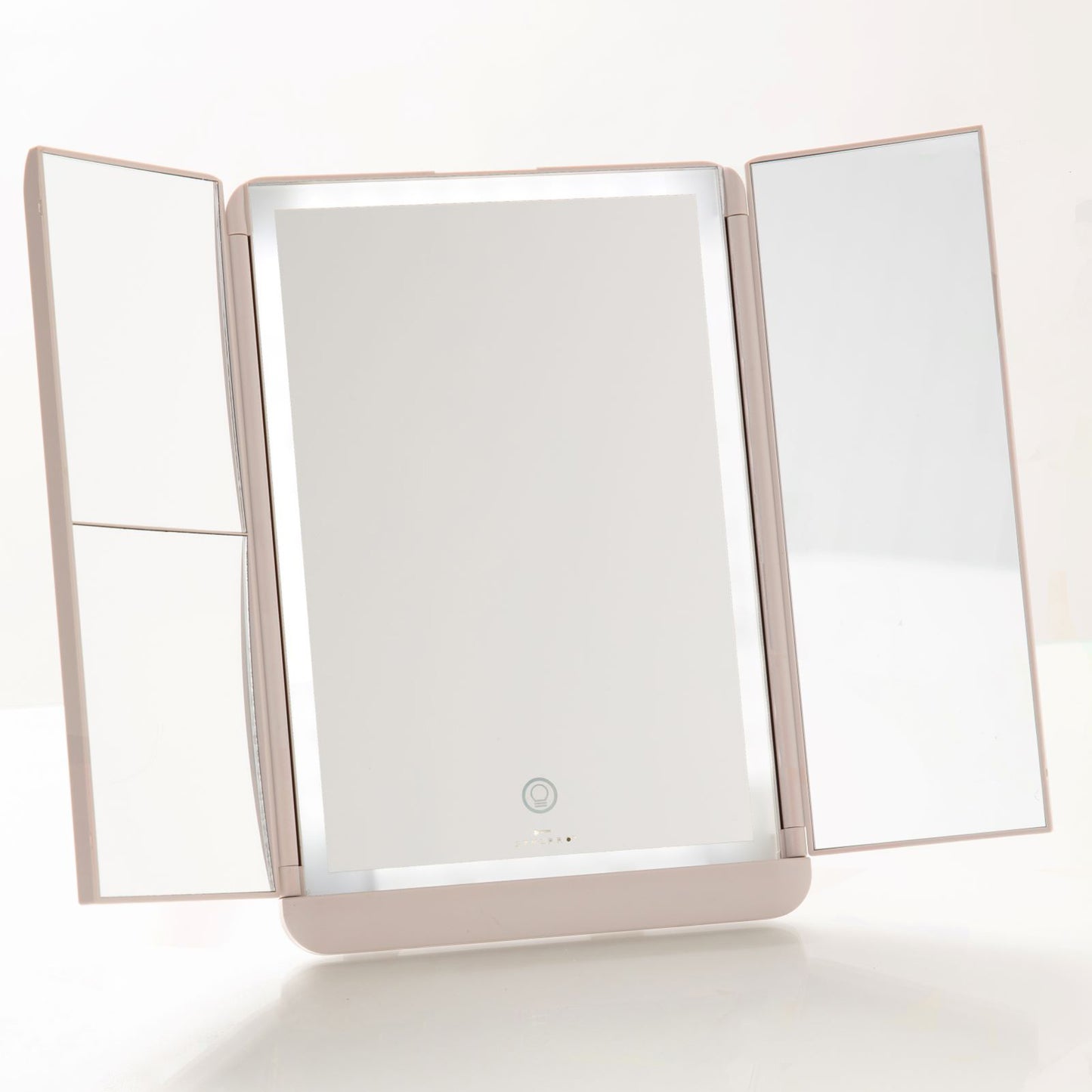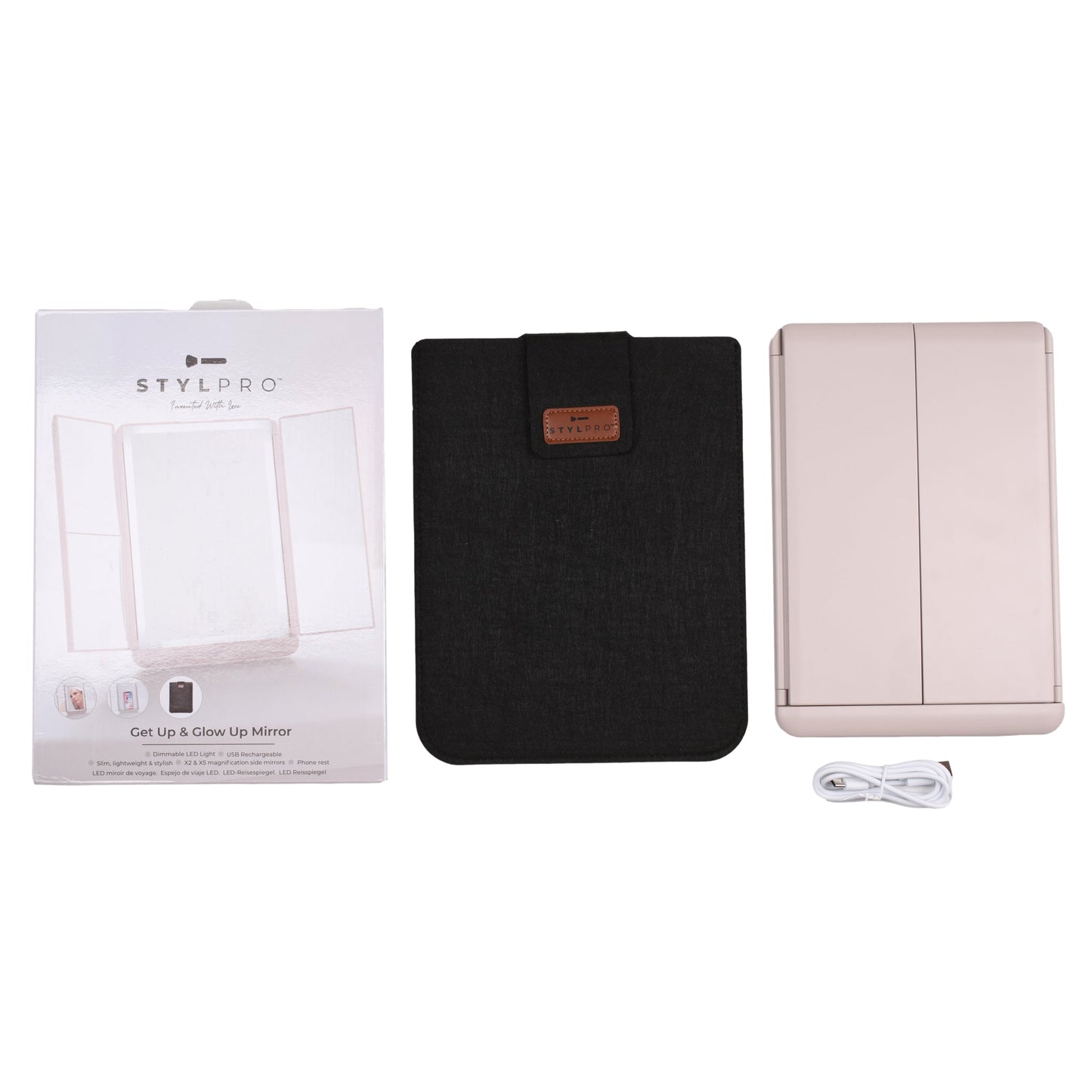 Beauty accessories invented with love
FAQs: Get Up & Glow Up Bi-Folding Mirror
Lights last will last up to 2 hours on the brightest setting. It may take up to 3 hours to fully charge the battery.
You can dim the LED lights on the face of the mirror by pressing and holding down the button on the front repeatedly, until you find the setting that suits you best.
Absolutely. The STYLPRO Glow & Go Mirror 3 comes with a safety sleeve, which keeps the mirror protected in your luggage. Our USB charging port also means you can charge it on the go.
The STYLPRO Glow & Go Mirror is charged using the USB cable provided, in any USB-friendly port. You can charge on the go with your laptop, or at home.
The STYLPRO Glow & Go Mirror 3 has bi-folding mirror doors and a main mirror surface, which is lined with LED panels. The 2 doors are lined with mirror faces, the left door has a split surface with one 2x magnified quarter and one 5x magnified quarter. The right door has a normal mirror focus.
Of course! On the back of the STYLPRO Glow & Go Mirror 3 is a pop-out stand, which you can use vertically or horizontally for a free-standing mirror.
We are sorry you are having issues with your STYLPRO Get Up & Glow Up Bi-folding Mirror. Please email us at teamtom@stylideas.com to fix this issue.
We will accept returns for unshipped orders for a full refund. If you wish to cancel your unshipped order or have any questions, please contact customer service at teamtom@stylideas.com For dispatched orders, we accept refunds/exchanges within 14 calendar days from the delivery date, if the item is unopened. The customer will be responsible for postage payment of the returned item. Please note, due to hygiene reasons, we do not offer refunds/exchanges if the product was used/package opened. Should you wish to return an unused, unpacked, please contact our customer service at teamtom@stylideas.com